Keynote Lecture: A Mamluk Sultan in Genoa: How the Sīrat Baybars Shaped the Egyptian Mental Map towards Europe and the Mediterranean
The Sīrat Baybars represents a very important Arab folktale pretending to describe the life Mamluk sultan Baybars (r. 1260-77). However the content varies between fact and fiction but it proved to be highly entertaining and popular among the Egyptian population until the 19th century when we still here of public recitals. As such it has shaped the image of Europeans and Christians as outer and inner foes of the Muslim realm and as constant possible threat. The planned presentation will focus in this context on the Genoa Episode of the Sīrat Baybars when the sultan is taken as captive to Genoa but rescued by victorious Ismāʿīlī allies. The episode allows on one hand to see how real historical events like the Fatimid attack on Genoa in the tenth century and the Mamluk conquest of Cyprus in the fifteenth merge into one narratives but will also show how the relationship between Europeans, Christian Dhimmis and Europeans are interwoven in networks of alliances and deceit. It will then discuss how these narratives managed to stay popular for so long.
Agenda
Albrecht Fuess has been a History and Islamic Studies Professor at the University of Marburg since 2010. His main research interests are the history of the Middle East (13th – 17th centuries), the cultural and social history of the Mamluks, Islam in Europe and contemporary Islamic youth cultures. He is a member of several scientific associations and editorial boards in Germany, Egypt, Belgium, France and Egypt. He is a member and principal investigator of many research projects, the most recent are:
The Clash of Muslim Empires. Ottomans, Safavids and Mamluks in the Sixteenth Century" (Individual research project), Transottomanica: Eastern European-Ottoman-Persian Mobility Dynamics [DFG- SPP 1981] (team project),  EGYLandscape Project: Exploring Egypt's Landscapes during the 13th-18th Centuries [ANR-DFG], Mediating Islam in the Digital Age [Horizon2020]  ( team project).
Some of his recent publications:
Ṣihr and Muṣāhara in Mamluk Royal Relations. Transmitting Power and Enlarging Networks Through In-Law Ties in Pre-Modern Egypt (2021)
Co-editor with Christoph Werner, Maria Szuppe und Nicolas Michel, Dynamics of Transmission: Families, Authority and Knowledge in the Early Modern Middle East (15th-17th centuries), Turnhout: Brepols, 2021.
Together with Volker Leppin and Stefan Schreiner, Jerusalem – Ziel, Vision, Vorbild FünfGeschichten eines Erinnerungsortes in Judentum, Christentum, Islam und Baha'i ( English: Jerusalem – goal, vision, role model Five stories of a place of remembrance in Judaism, Christianity, Islam and Baha'i), Tübingen: Mohr Siebeck 2021.
Among many other publications in the field.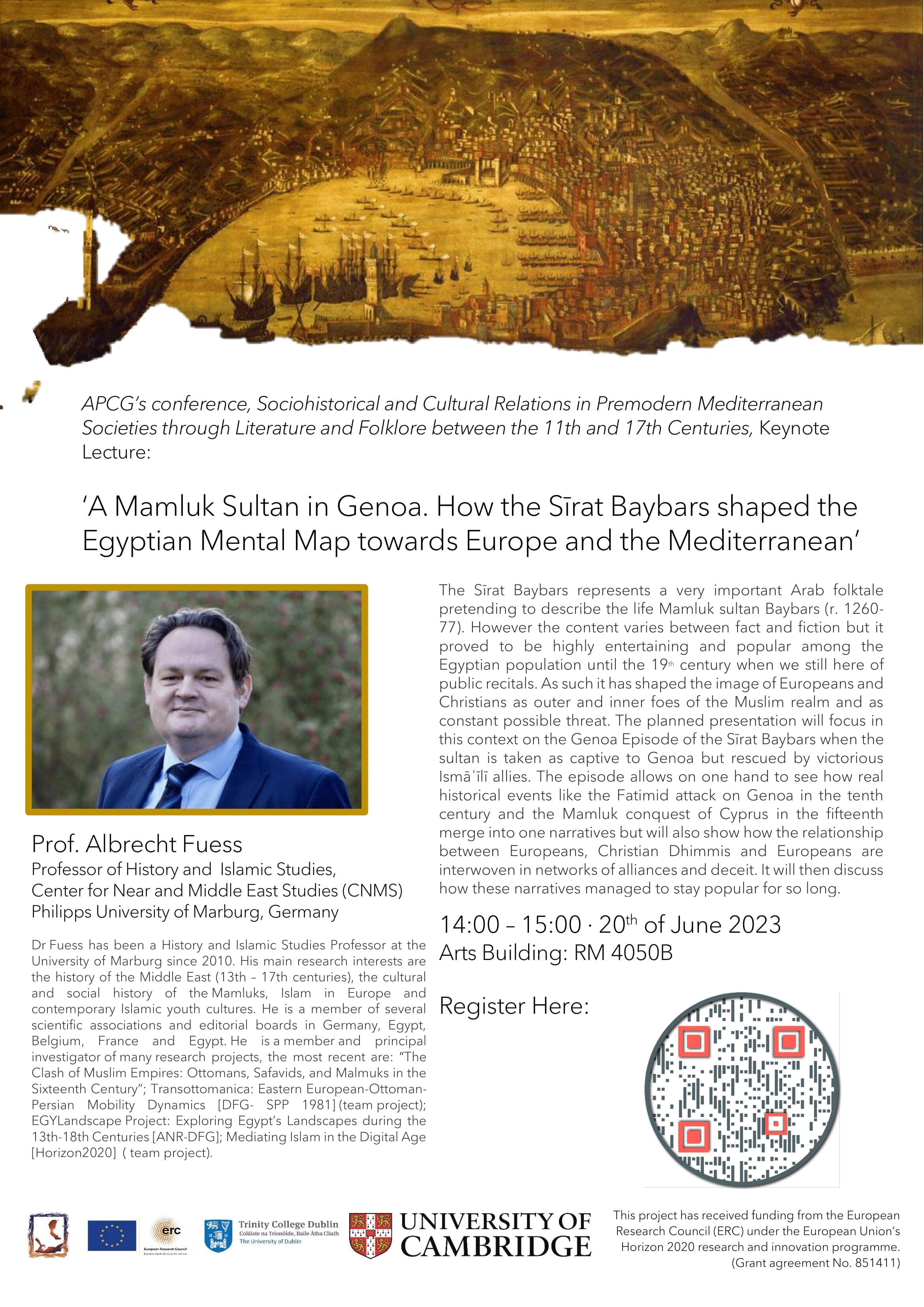 Keynote: Losing time in nonsense: Arabic Epic literature and Reading and Writing for Fun among Jews in Egypt and the Levant
In his commentary on the Mishnah, the Jewish community leader, physician, and philosopher, Moses ben Maimon famously derided the reading of the "books found among the Arabs" which recounted the behavior of kings, genealogies, and songs as "a loss of time in nonsense." In this paper I propose to explore both indications of Jewish interest in Arabic epic literature, such as Sirat al-Antar, or Sirat Dhat al-Himma, and why such narratives, usually Muslim in origin, would have attracted a Jewish readership. I will argue that in part, Jews were drawn to these tales because these epics contained tales of distant Jewish lands and warriors. Miriam Goldstein has noted in her studies of Judeo-Arabic versions of the Toledot Yeshu, the Jewish retelling of the life of Jesus, found in the Cairo Geniza, that this text was sometimes found with retellings of biblical and extra-biblical accounts of the Jewish past, such as the martyrdom narratives in Maccabees. These fragments in the Cairo Geniza will be examined in the light of Jewish, Muslim and Christian reading habits and as potential forays into Jews writing their own "adventure literature."
Agenda
Alexandra Cuffel is Professor of Jewish Religion and History at Ruhr Universität Bochum (Germany). She received her PhD from New York University. She is the author of two monographs, the first, Gendering Disgust in Medieval Religious Polemic, was published by University of Notre Dame Press, the second is forthcoming this year from ARC Humanities Press, and is entitled Shared Saints and Festivals among Jews, Christians and Muslims in the Medieval Mediterranean. She is also the co-author of a variety of edited volumes, and author of numerous articles. Her specialization is Jewish- Christian-Muslim relations in medieval Europe and the Islamicate World.
Sociohistorical and Cultural Relations in Premodern Mediterranean Societies through Literature and Folklore between the 11th and 17th Centuries
The research team of the ERC funded research project Arabic Poetry in the Cairo Genizah (APCG), at the Department of Near and Middle Eastern Studies, School of Languages, Literatures and Cultural Studies, Trinity College Dublin, University of Dublin, is pleased to invite you to participate in their international conference "Sociohistorical and Cultural Relations in Premodern Mediterranean Societies through Literature and Folklore between the 11th and 17th Centuries".

19th & 20th of June, 2023

Agenda
Introduction:
The pre-modern Mediterranean was composed of diverse ethnic groups, religions and societies, making it a rich environment for ethnoreligious and sociocultural exchange. Increased access to digitised manuscript collections and fragmentary archive provides exciting opportunities to consider the relations between Jews, Christians, and Muslims across the Mediterranean through the investigation of literary materials – poems, fables, folk stories, legends, and myth, as well as the sentiments expressed in manuscripts, documents, letters, and personal accounts. An example is the fragments of medieval and early modern Arabic poetry from the Genizah collection, from which the APCG team at Trinity College Dublin study the sociocultural and intellectual life of the Jewish community and the mutual influence between the Muslim and Jewish cultures.
The Genizah fragments represent literary history which covers almost a thousand years of cultural production, giving insights into the multicultural aspects of the Mediterranean societies of the day, demonstrating a significant cultural exchange through, inter alia, poetic literature. This conference thus seeks papers on the theme of the educational and historical context of relations and between Jews, Christians, and Muslims, among others, through analysing the above works of high culture and mainstream literature. It also aims to uncover new perspectives on their sociocultural relations and exchanges, and highlight the extent of their interdependency.
In the same context, collections of medieval and early modern fragments and manuscripts, including letters, legal or official documents, diwans of poetry, mythic tales or fables, popular histories, or personal narratives, are accessible through numerous libraries and archives. An examination of these documents reveals aspects of the "micro" and "macro" historical relations across the Mediterranean. Studying individual documents or works of literature can both present unique perspectives and reveal particular challenges to a balanced interpretation of the nature of intercommunal relations, or to educational and cultural dependencies as they were realised through diverse communities over periods of hundreds of years in the pre-modern Mediterranean.
Through this conference, we seek to bring together scholars, including PhD researchers of various disciplines, including, but not limited to, History (especially sociocultural and educational histories), Literature, Philology, Anthropology, Manuscript Sciences, Archaeology, Philosophy, Sociology, Theology and Religious Studies including papers focusing on theory and methodology. We are looking forward to engaging discussions on the opportunities and challenges inherent in diverse subjects for the purpose of writing history. The convenors plan to publish an open-access volume of papers on the theme of the Conference, particularly Jewish-Christian-Muslim sociocultural and educational histories in the pre-modern Mediterranean.
The conference committee will be pleased to accept 20-minute research papers. Themes may include but are not limited to:
relationships between Jews, Christians, and Muslims through literature (especially poetry), culture, and languages;
inter-communal relations across the Mediterranean through social and educational history;
literary and cultural exchanges;
evidence of interrelations through travel literature;
education and pedagogy: How did the educational and pedagogical systems of each religion reflect shared virtues and intercultural aspects while simultaneously exhibiting discrete differences?
prominent myths and prophecies of the relationships and communications between Jews, Christians, Muslims and other Mediterranean communities;
popular images of interactions between minority and majority communities, particularly through literature, fragments, travels and folklore
morality and ethics;
archaeological evidence of sociocultural and educational relations;
influences of intellectual communications on medicine, science, nature etc
dynamics between popular and academic perceptions of relationships between Jews, Christians, and Muslims, among others;
the construction of communications between Jews, Christians and Muslims in encyclopaedias, documentaries, images, and texts
Abstract of Paper and Panel Proposals:
We welcome proposals for papers and panels. Paper proposals should consist of an approximately 250-300 word abstract and a brief biographical note, including research interests and the most relevant publications. Panel proposals should nominate a chair for the session and include a session abstract, title and a brief abstract for each participant's paper, along with a brief bio.
All proposals should be submitted to Ahmed M. A. Sheir ([email protected]) and Muhammad Imran khan ([email protected]), by 31st September 2022.
Costs and Publication:
A bursary will be provided towards travel and accommodation costs and the selected papers will be published in an open-access volume.
We look forward to welcoming you to the event!